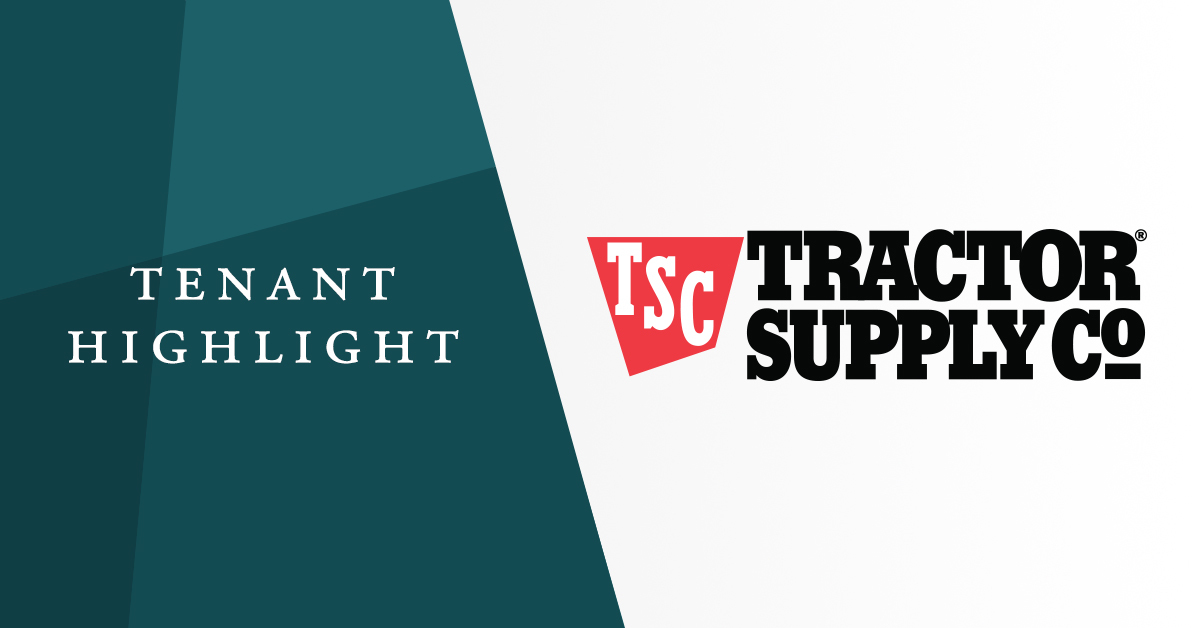 We are pleased to announce that the percentage of our portfolio's annualized base rents generated from investment-grade tenants has increased significantly in light of the recent rating of Tractor Supply's credit of BBB (Standard & Poor's) and Baa1 (Moody's).

ExchangeRight's portfolio currently includes 68 properties that have long-term net-leases to Tractor Supply, representing nearly 11% of the net operating income of our net-leased assets under management. Our relationship with Tractor Supply was established in 2014 after our rigorous due diligence revealed that the company met our tenant and financial stability requirements. The company operates a leading chain of retail stores that each carry products related to home improvement, agriculture, truck maintenance, livestock, equine care, and household pet care. It employs over 17,000 individuals, operates 1,844 stores across 49 states, and was listed by Forbes among the 100 fastest growing businesses. Tractor Supply's strong financial position has contributed to our ability to meet or exceed all of our projections to investors since our inception and regardless of economic conditions.

Standard & Poor's credits the investment-grade rating of Tractor Supply to the company's solid operating track record which has included market share gains, a conservative leverage profile, and strong demand for its essential products amid government-imposed shutdowns. Tractor Supply is considered an essential U.S. retailer and according to Standard & Poor's press release, Tractor Supply is capturing a greater proportion of consumer spending as a result.

The pandemic has forced many retailers across the country to request rent deferrals, but Tractor Supply has remained financially strong and is currently planning to continue its growth by adding more locations in the coming years. Like our other essential business tenants, Tractor Supply provides products that are needed even during economic downturns, has solid financial metrics including a history of profitability and a strong balance sheet, and was equipped to perform very well even during the unprecedented economic turmoil in 2020. The credit rating for Tractor Supply and its focus on essential goods are indicative of the stable qualities that we look for in tenants for all of our diversified net-leased offerings. As a result of this focus on investment-grade and recession-resilient tenants, we have collected 100% of rent from all of our net-leased tenants.

We remain confident in the resilience of Tractor Supply and our other investment-grade and creditworthy tenants, we are proud of how the company has positioned itself to continue serving the needs of the American people, and we are pleased that ExchangeRight's offerings have continued to serve the goal of providing investors with stable income and secure capital, even through economic downturns.

Please read below for highlights from Standard & Poor's announcement about Tractor Supply:
The company continues to generate solid operating performance results, demonstrating the durability of its unique value proposition as a niche rural lifestyle retailer.


The stable outlook reflects Standard & Poor's expectation that Tractor Supply will continue to gain market share on the strength of its niche merchandising strategy and growth initiatives that are aligned with consumer demand trends while maintaining adjusted leverage below 2x.
To read Standard & Poor's full press release about Tractor Supply's investment-grade credit rating, please click here.