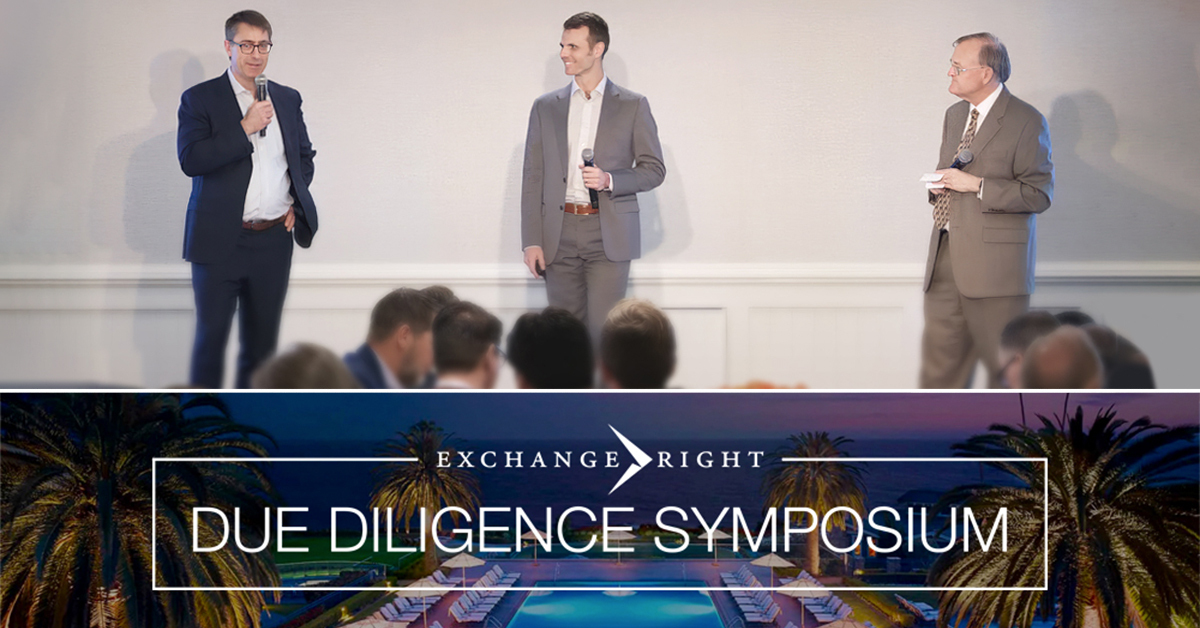 ExchangeRight is thankful to announce that its recent Due Diligence Symposium was a success, with more than 50 due diligence professionals, investment officers, and other financial specialists meeting in Laguna Beach, California. During the two-day Symposium, ExchangeRight's managing partners and executive leadership presented an in-depth due diligence review of the company's 1031 and REIT platforms.
The Symposium focused on due diligence processes both for individual assets and entire portfolios, with topics covering the importance of acquisition criteria informed by macroeconomic analysis, why to strategically diversify portfolios exclusively across recession-resilient industries and necessity-based businesses, and how to evaluate an investment platform's long-term exit and aggregation strategies on behalf of investors.
Ben Carmona, a managing partner at Perch Wealth, said he was pleased to be able to engage with ExchangeRight's team in person.
"I rarely attend sponsor due diligence events, but I am glad that I made the decision to attend," Carmona said. "In addition to being informative and educational, it was valuable for me to spend time and get to know the partners and other key personnel who run the company. ExchangeRight is a first-class organization through and through."
ExchangeRight's partners and executive leadership valued the opportunity to directly engage with due diligence analysts, investment officers, and key leadership, representatives, and advisors of the RIAs and broker-dealers that they serve, and the company plans to offer more opportunities for direct interaction with industry partners in the future.
"This series is really important to us, since it's a chance for ExchangeRight's managing partners to gather in one place to provide a deep dive on our investment platforms, aggregation strategy, conservative underwriting, and rigorous analysis that are foundational parts of who we are as a company," said Joshua Ungerecht, a managing partner at ExchangeRight. "It was a privilege to share the passion and principles behind our platforms, to learn from the insightful questions and discussion, and to connect personally with everyone who was able to attend."
Due diligence officers, investment officers, and key leadership looking to participate in future Due Diligence Symposiums with ExchangeRight can reach out for information by contacting senior vice president of national accounts Zach Plahn at (626) 910-0721 or zplahn@exchangeright.com.