PASADENA, Calif. - ExchangeRight is pleased to announce that it has collected 100% of April, May, and June rent from all of its tenants on behalf of investors and has consistently delivered uninterrupted cash flow distributions to investors for all of its portfolios throughout the COVID-19 pandemic.

ExchangeRight's success through the COVID-19 pandemic compares favorably with a number of the major publicly-traded REITs that feature net-leased portfolios comparable to ExchangeRight's net-leased assets under management. The table below compares their performance through April and May. Though June collections were also 100% for ExchangeRight's aggregated net-leased portfolio, June collections have not yet been disclosed by many of the publicly-traded REITs.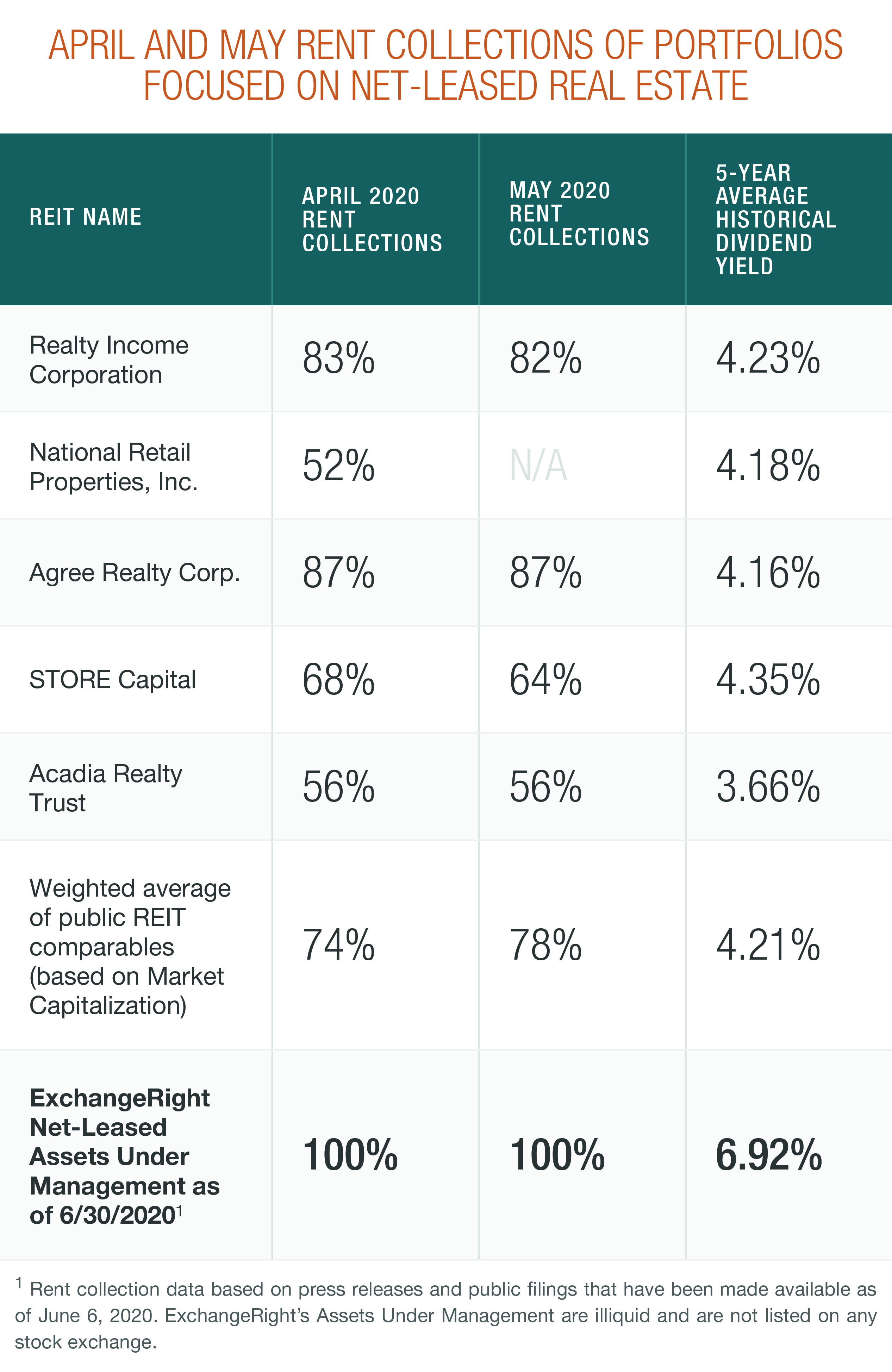 "Our strong performance on behalf of investors is driven by the fact that over 99% of our tenants are investment-grade or national credit companies, over 93% of our tenants operate essential businesses in the necessity-based retail and healthcare industries, and 100% of our tenants operate in recession-resilient industries," said Joshua Ungerecht, a managing partner of ExchangeRight. "We are grateful that this focus has enabled us to meet or exceed targeted returns to investors since the company's inception, and particularly through the COVID-19 pandemic."

ExchangeRight and its affiliates' total assets under management is diversified across more than 675 properties of over 14 million square feet located throughout 38 different states. More than 3,300 investors have trusted ExchangeRight to manage their capital.


About ExchangeRight

ExchangeRight is a vertically integrated real estate investment firm with over $2.7 billion in assets under management. ExchangeRight pursues its mission to empower people to be secure, free, and generous by providing income funds and 1031-exchangeable investment offerings that target secure capital, stable income, and strategic exits. The company strategically acquires and manages long-term, net-leased assets backed by investment-grade corporations that operate essential businesses successfully in the necessity-based retail and healthcare industries. For more information, visit www.exchangeright.com.

Media Contact
Lindsey Thompson
lthompson@exchangeright.com
(855) 317-4448