PASADENA, Calif. - ExchangeRight is pleased to announce that it has collected 100% of August and September rent from its net lease tenants on behalf of its investors. This builds on the company's track record of collecting 100% of its net lease rent and of meeting or exceeding projected returns for each of its offerings every month since its inception in 2012. Over 93% of ExchangeRight's net lease tenants operate essential businesses in the necessity-based retail and healthcare industries and over 99% are investment-grade rated or national creditworthy companies.
"Due to our acquisition focus and proactive asset management approach, we continue to ensure that our rent payments are collected promptly and in full each month to serve the needs of the investors, representatives, and advisors who entrust us with their wealth," said Warren Thomas, a managing partner of ExchangeRight. "Throughout the pandemic, our tenants have made all rental payments and our offerings' performance track record has remained impeccable. As we continue to meet the increasing demand for our recession-resilient offerings, we remain committed to focusing on investment-grade tenants operating essential businesses in industries that perform well in all economic cycles."
ExchangeRight's success and collections through the COVID-19 pandemic compares favorably with a number of the major publicly traded REITs that feature net-leased portfolios that are somewhat comparable to ExchangeRight's net-leased assets under management. The key to ExchangeRight's superior performance is that ExchangeRight focused almost exclusively on essential businesses, recession-resilient industries, and investment-grade creditworthy tenants. The table below compares the performance over the past five months.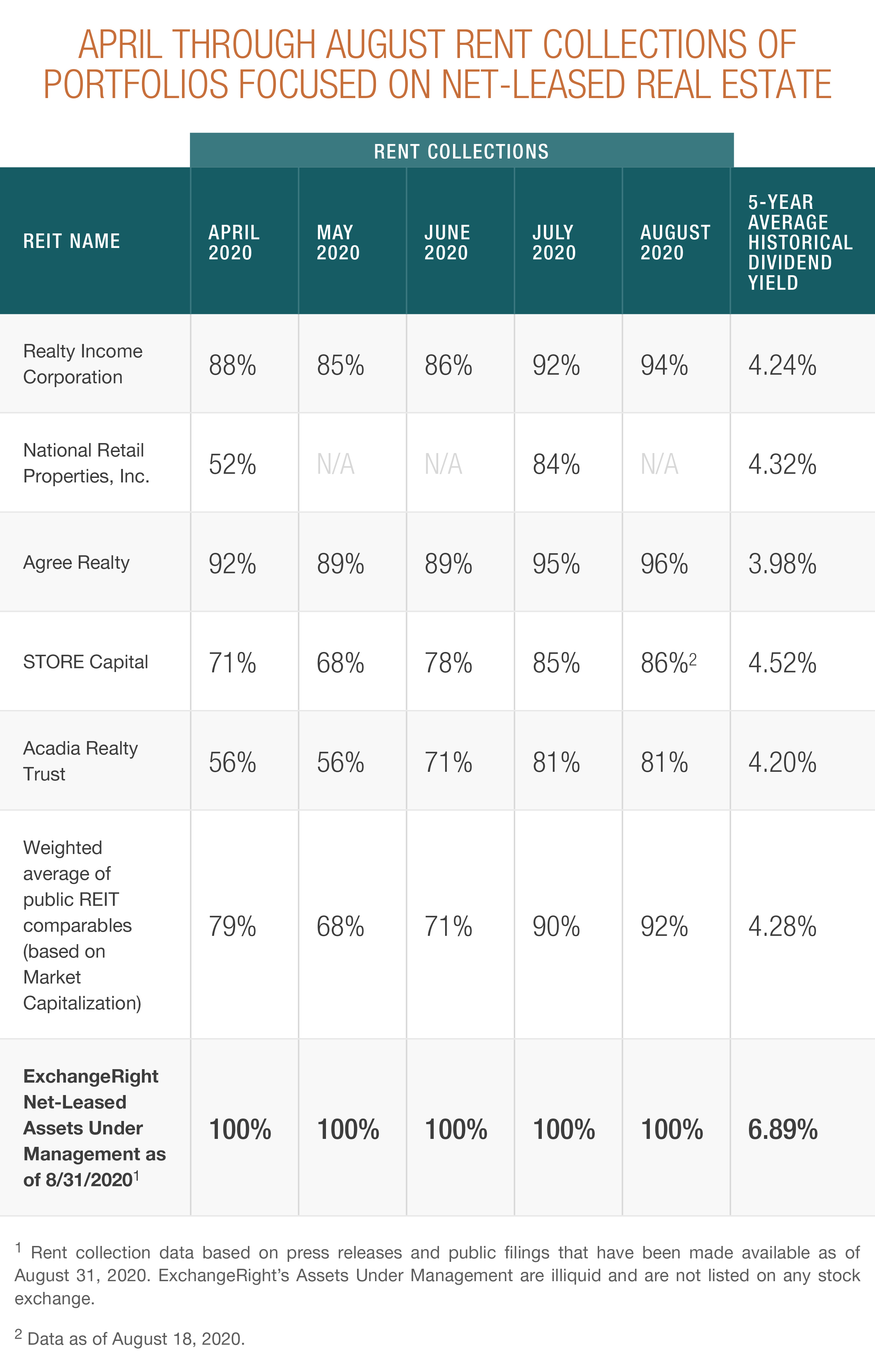 ExchangeRight and its affiliates' vertically integrated platform has over $2.8 billion in assets under management, diversified across more than 700 properties of over 14 million square feet located throughout 38 different states. More than 3,500 investors have trusted ExchangeRight to manage their capital. All 56 of the company's current and past offerings have met or exceeded targeted cash flow distributions to investors since the company's founding in 2012.
About ExchangeRight
ExchangeRight pursues its mission to empower people to be secure, free, and generous by providing REIT, fund, and 1031 DST portfolios that target secure capital, stable income, and strategic exits. The company sources, syndicates, and strategically manages long-term, net-leased assets backed by investment-grade corporations that operate essential businesses successfully in the necessity-based retail and healthcare industries. For more information, visit www.exchangeright.com.
Media Contact
Lindsey Thompson
lthompson@exchangeright.com
(855) 317-4448